Bunkering at Baltics
We offer bunkering at low prces in the major Baltic states ports. While we are not acting as physical suppliers our long term relations and reputation to get high benefits from major top quality bunker traders in the area.
It's your right choice!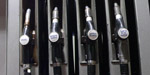 Trading of bunker is always a special task and only only long time of cooperation with bunker traders allow us to provide lowers quotes on bunker in the region. We communicate constantly with "first-class only" physical bunker suppliers and are always to bring lowest quotes for tramp ships. We can beat any price you can get at the market at the moment.
What you get
Ask us for a bunker quote and you will get:
Supply in port or outer roads
Supply of bunker without cargo operations interruptions
Price is always few bucks lower than any other's
Only first-class physical suppliers
24 hrs communications available
Credit payment available